SR SUNTOUR
---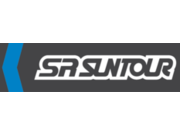 (Suspension Forks and Chainsets)
"We develop and manufacture many unique items for various segments of bicycles. Since 1987 we stick to our policy of respect for the earth's environment and our commitment to high quality, creativity and best service.

Throughout all these changes, one thing always remained the same: Our passion, our time and thoughts, love and energy, we dedicate to biking. The way our technicians wake up during a dream, go to the factory in the middle of the night, make sketches or file on prototypes.

It is this passion to our company principles of providing quality, value, and fulfilment - which helps us to satisfy the expectations of our customers, of our retailers, and the bicycle enthusiasts who use our products.

Passion to improve riding quality is our inspiration to offer affordable and innovative products for our customer's enjoyment and constantly triggers new innovation impulses in our minds that will keep on changing the biking world for the coming decades.

You can't reinvent the wheel? Well, we are trying every day - with passion !

Your SR Suntour Team"
If you can't find the items you are looking for within our main site, you should be able to view the complete range from SR SUNTOUR by visiting their own website: (although please be aware that not all products may be available within the UK)
VISIT
SR SUNTOUR Website