DIAMONDBACK
---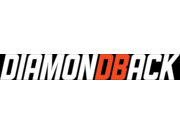 "At Diamondback the heritage runs deep. From the early days of silver and black with former stars like Harry Leary, Doug Davis and Mike Dominguez - to today's crop of superstars such as Reuel Erickson, Darin Read and Andrew Carpenter, Diamondback has always been represented with top talent in the sport of BMX.

The continued hard work and dedication of these riders allows Diamondback Bicycles to continue to develop the newest, coolest, cutting-edge products available. Without their input, commitment and dedication Diamondback BMX would not be what it is today."
"Diamondback Trick Bitz are the top customisation brand in the BMX scene. Focusing on variety and quality, Diamondback's selection of colours allow every rider to build their own style"
If you can't find the items you are looking for within our main site, you should be able to view the complete range from DIAMONDBACK by visiting their own website: (although please be aware that not all products may be available within the UK)
VISIT
DIAMONDBACK Website